3 STEP FITNESS/WELLNESS 90 DAY PROGRAM GUIDELINES
CONGRATULATIONS, to our newest Preferred Member

LET'S GET STARTED
TABLE OF CONTENTS
      (Click on the above Link) 
Read though and familiarize yourself with all the important information, so you can get the absolute most out of your 12-week program
THEN: (Click on any of the STEPS on the left, view the contents and use your BACK ARROW to return to this page)
STEP 1:  Purchase Fitness Program
STEP 2:  Order Wellness Phase, Dietetic Supplements
STEP 3:  Pick up all necessary "peripheral" materials for program
STEP 4:  Become familiar with the Workout Videos and corresponding Workout Charts that will be strategically E-mailed to you.
STEP 5:  Wellness Phase Dietetic Supplement Program.
STEP 6:  IMPORTANT   –   MUST USE FORM to Set MONDAY date to start 90-day program
---
 INTRODUCTION GUIDELINES:

Now that you have decided to take that BIG first step and join our program. Here are some DO'S and DON'TS procedures to follow to get the absolute most out of the next 12 weeks.
This is a marathon, not a sprint.
Remember, our simple, time-proven strategy:
"Start small, and add one small thing each week."
This platform works AMAZINGLY WELL, If . . . you don't fall into the mindset that something this simple, easy and unobtrusive can't possibly work.
TRUST ME!
After we pass age 50, and our bodies start the "winding down" process, gradual progression is the only realistic concept that . . . DOES WORK! 
First the DON'TS: 

Don't start out too aggressively
We want you to comfortably build your workout routines slowly, day by day – week by week
NEVER . . . NEVER, perform any of my exercises for more than 30 SECONDS, at a time!
Because of the older generation's physical degeneration of muscles, joints, and tendons; it is more advantageous for folks over age 50 to exercise in short bursts, with rest periods between repetitions, instead of extended workouts.
Forget the old axiom: "No Pain . . . No Gain"
You must discern the critical differences between pain and soreness. "Pain is bad" . . . "Soreness is good" At our age you can't just "work through the pain" like we used to when we were younger.
Pain; will lead to your having to curtail the program until your body can heal, which means you probably have to start over.
Soreness; will tell you if your workout routines are being effective. It will tell you if you are targeting the proper "intended" areas. The more you flex the targeted areas, the soreness will slowly dissipate.
Don't hold your breath
This is the worst thing you can do during a workout. The more oxygen you can take in, the easier and more beneficial your exercise will be. You will notice; when weightlifters, prior to attempting to move a heavy object, work themselves up to the task by taking a series of deep breaths. This delivers the much-needed fuel to the targeted muscles to be able to perform the exercise.
Don't weigh yourself every day to start with
This simple task could do irreparable harm to your continued participation in the program. We are all different in our physical and metabolic makeup. Some will gain and lose weight and inches at different rates. Since we are going to be interacting with each other as a support group, sort of comparing notes, we want positive not negative feedback. If some are progressing faster than others, we don't want "ANYONE" to become discouraged and dropout. I suggest you don't weigh more frequently than the end of each week. Monthly would be ideal.
Remember; "it's not important where you start, or even where you end up. What is important is that you progress, to some degree, each week."
Most of us are not going to enter any bodybuilding contests . . . we just want to feel and look better so we can get the absolute most out of our retirement years.
Now the DO'S: 

Flex your abdominal muscles CONSTANTLY
This is something you can start immediately. Anytime you commit to a physical exertion, of ANY KIND, i.e. (standing, sitting, walking, getting out of bed, getting into bed, turning over in bed, driving, etc. . . . ANYTHING). In other words; conscientiously precede "any" physical action by tightening your abdominal muscles first and hold it throughout the physical act. This one simple act can produce Miracles!
Set a specific time when you will do your exercises
I would suggest that you exercise as early as possible after waking. I suggest this for these reasons;
You are the strongest and most alert at this time of the day.
You will treat this chore like any another daily function, i.e. brushing your teeth, going to the bathroom, combing your hair (if you have any), getting dressed, etc.
Personally, I prefer working out prior to breakfast. It's much easier than on a full stomach.
Psychologically, it's always better to get the task behind you than trying to fit it into your schedule later in the day.
Have everything you need readily at hand
(Applicable workout videos and personalized automated charts, clock, 3 stage rubber bands, workout mat, water, etc.) Don't waste time having to find your tools to do your work.
Don't skip ahead or miss your scheduled workouts
I have spent over 3 years developing the 3 Step Fitness/Wellness Program and have proven, through trial and lots of error, the system works as I have outlined it. I have provided 1 day of rest each week, "use it wisely."
Take the Dietetic supplements, as directed
Consumption of the supplements will curb your appetite; give you more energy; and enthusiasm.
Losing unwanted pounds and ugly inches will make your workouts much easier.
Following the "small" weekly lifestyle suggestions, will not necessarily change what you eat but, habitually . . . HOW YOU EAT.
Does this look familiar?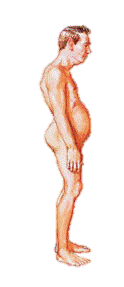 Because this individual has lost his abdominal muscle tone, (his human shear wall), ALL of his bodily functional loads has been transferred to his back. The human back was not designed for this ruinous onslaught.
How does strengthening our Core muscles really benefit our Bodies?
Here are 4 main critical body conditions that benefit greatly from a strong core:
Alleviates Back Pain:
Research shows that people with weak core muscles have an increased risk of back ache and injury, since they lack adequate spine support.
Core-strengthening exercises and core-engaging workouts can help reduce discomfort, improve mobility and improve support for the spine in people with both acute and chronic pain.
Improves Posture:
Core-strengthening exercises work all of the muscles of the torso from top to bottom and front to back, helping you stand tall with your limbs in alignment.
 By improving posture, you decrease your risk of disc herniation and vertebrae degeneration.
 Another benefit to improved posture is better breathing. That same balance that helps you stand up straight also opens your airway, making inhalations and exhalations easier.
Improved Balance:
Poor balance is a complicated condition, but mid and lower body weakness, are often contributing factors. Studies have shown that dynamic balance improves as core strength increases.
Safer Everyday Movement:
Daily tasks—such as maintaining balance on an icy sidewalk, carrying groceries, hoisting children and walking up a steep flight of stairs—are easier and less likely to result in an injury when your core is strong.
Not only do you have better control of your muscles, but you can more easily find your center if you're caught off-balance.
In addition, being able to rely on a strong core will make it less likely that you'll overtax other muscles.
CLICK HERE,  to go back to TABLE OF CONTENTS
---
THINGS YOU NEED TO DO PRIOR TO STARTING YOUR 12 WEEK PROGRAM
STEP ONE:
–
Since you are reading this Introduction outline, it means you have already taken the most important step, and purchased the Fitness portion of the 90-day program.
–
–
YOU ARE WELL ON YOUR WAY TO A HEALTHIER, HAPPIER LIFESTYLE
–
–
–
---
STEP TWO:
You need to order your first month's supply of Dietetic Supplements as soon as possible. Depending on where you live and will determine how long it will take to receive your supplies.
These are the supplements:
PLNT PROTEIN MEAL REPLACEMENT – VANILLA or CHOCOLATE FLAVOR
One month's supply consists of container:
1 – 2.44 lb. (chocolate) or 1 – 2 lb. (vanilla)  
This product is produced by The Vitamin Shoppe. You can purchase it at your local Vitamin Shoppe store or order it shipped directly to your door, FREE SHIPPING.
The product comes in a powder form. Daily dose, approximately 4 tablespoons (measuring cup included in container)
Suggested use: I like either vanilla or chocolate flavor. I recommend splitting the (daily dose) in 2 parts (2 tablespoons). This way you can have 2 shakes at 2 intervals during each day.
Mixing instructions: The company suggests mixing powder with 8 oz. of water and stirring, shaking or blending until smooth.
My recommendations: Purchase a small single server blender:
(Walmart approx. $15.00)
Blending is much easier and produces a much better drink. Pour 8 oz. of water, coconut or almond milk in the container and blend in 2 tbsp. powder until smooth, (approx. 10 – 15 seconds). You can add ice if you want a smoothie effect. Drink one shake at approximately 9:00 am and another at 2:00 pm. If you are going to be away from home during the day, you can blend a drink and put it in a beverage container and drink it later.
Click on one of the links below to ORDER your Vitamin Shoppe Supplement 
Click Here to order Vitamin Shoppe CHOCOLATE Supplement
Click Here to order Vitamin Shoppe VANILLA Supplement
---
BOOST "high protein" Shake
One month's supply consists of 1 Case = 24 bottles
This tasty shake comes in 17 Flavors. Popular flavors can be purchased in most local Grocery Stores. It is packaged individually and:
6 pack (1 week supply) 
12 pack (2 week supply)
24 pack case (1 month supply) This case quantity can be ordered through Amazon .com and delivered to your door.
Suggested use: It's best served refrigerated. No mixing drink right out of bottle.
My recommendations: "My favorite flavor is chocolate or very vanilla. They seem to be the flavors of choice that is carried in most Grocery stores. Best served cold. You will drink one bottle of BOOST within 1/2 hour of waking each of the 6 days per week."
"BEST BUY"
(one month's supply)
 Case of 24 bottles can be ordered on line at Amazon.com , delivered to your door (see link below)
Click Here to Order (one month supply) Boost product  
---
STEP THREE:
Pick up the necessary items shown below, for your workouts:
Yoga Mat or similar can be purchased at Walmart approx. $10.00-$15.00
Battery powered clock w/second hand under $10.00 at Walmart or download free Stopwatch App. for computer, tablet or smart phone.
Cloth or Vinyl measuring tailor's tape under $5.00 at Walmart
Gold's Gym 3 stage resistance tube kit,   $22.50+ tax at  Amazon.com
To place order from Amazon.com    Click Here

–
---
STEP FOUR:
YOUR WORKOUT VIDEOS AND PERSONALIZED TRACKING CHARTS
Strategically throughout the Program,  you will receive NEW Workout Videos. Each of the added activities will be accompanied by a corresponding "PERSONALIZED WORKOUT" Chart. These charts will make it possible for you track your "GRADUAL PROGRESSION" throughout the 12-week program.
Your amazing results happen so subtlety that if you don't keep a detailed record of your development . . . you won't know how you got where you are.When you purchase your 12 Week Course you will receive the following by E-Mail at strategic intervals throughout the 90 day course:
Nine (9) Workout Videos depicting the correct method to perform each exercise.
Nine (9) Downloadable Workout Tracking Charts, accompanied by an Instructional Sheet, explaining in detail, the simple method of using each Chart correctly.
Four (4) Downloadable Personalized Picture and Measurement Monthly Progression Charts, received at 1 month intervals.
All CHARTS: Weekly Workout Charts will be sent through your personal Email.  You will download, and print out 12 weekly copies of each workout chart to be used weekly to track your progress.  If you are not sure how to download the PDF formatted Charts there will be a step-by-step easy to follow Video attached.
---
–
STEP FIVE: 

Each week you will receive excerpts of my WORKOUT DIARY, which gives detailed of MY experiences going through the initial 90 day Program, just as you are attempting. We can compare notes weekly. 
Included in each weekly Diary entry you will receive guidance on how to improve your eating habits and suggestions on how to make better food consumption choices.  
 This Wellness, Dietetic Supplement Program applies the same GRADUAL PROGRESSION concept to improve your "OVERALL" well-being. You will be "adding one small thing each week, for 12 weeks" until you absorb these benefits into a LIFESTYLE that will stay with you for the rest of your life. 
–
The suggested modifications will be outlined in each week's WORKOUT DIARY. 
–
–
---
STEP SIX:     
SET YOUR STARTING DATE
YOU MUST START YOUR 12 WEEK PROGRAM ON:
A MONDAY
When you have:
Read all the INFORMATION, GUIDELINES suggestions
All your Wellness Dietetic supplements in hand
Accumulated all the necessary peripheral materials
WHEN YOU HAVE COMPLETED ALL THE ABOVE TASKS . . .
You will go to the "PICK YOUR MONDAY" (Example) FORM below.
YOU WILL:
Fill in your First and Last NAME
Enter your EMAIL
Enter the DATE you "ACTUALLY" want to start your 12 week program.
This date must be a VALID MONDAY DATE  
When you click on the double arrows in the FORM (see example below), Three (3) appropriate Monday dates will appear; Choose the one (of the 3 options) that fit your schedule best. These optional dates will automatically update every week.
 (see the example detail below for the location of the double arrows)
(now fill out the form)
Choose the date, then click on the SUBMIT DATE button and your 12 week program will be initiated, and you're on your way to Healthier more Fit . . . LIFESTYLE.
Watch your INBOX on your personal Email. . . You will receive Week One's Package (everything you need to complete Week One) on the Saturday preceding Week One Start Date. This date will be the ACTUAL starting date you chose, to start your 12 Week Program. This will give you the weekend to download all the applicable Charts and familiarize yourself in their use.  GOOD LUCK!
---
This page "INTRODUCTION AND GUIDELINES" was designed to serve as a constant reference guide. Save it to a location on your computing device where you can easily find it. You should refer to it whenever you have a need to re-familiarize yourself with ANYTHING!
DON'T FORGET
Before you exit this page, save THE EMAIL that you received this page in, by Bookmarking its location so you will be able to find it in the future . . . if you don't you won't be able to view the Page again.
---
Follow the

3 Step Fitness/Wellness Program

guidelines and don't deviate from their platform . . . "IT WORKS"
---
If you have any questions, problems or confusion feel free to contact me anytime. 
Go to the CONTACT ME tab at the bottom of every page on my website,
IF WE ALL WORK TOGETHER . . . WE ALL WIN!