Staying active in your senior years is an important part in preventing the risk for certain diseases or managing a pre-existing condition. Wednesday, May 30 is the 25th annual National Senior Health & Fitness Day®. The common goal for this day is to help keep older Americans healthy and fit.
Here are three fitness tips for seniors: 

Start Your Routine at Your Own Pace
If you have not been active in a while, start slowly. Talk to your doctor before starting a new exercise routine. We have the Polar BodyAge® fitness assessment that will provide you with accurate data to determine your current fitness level. Our fitness specialists will use your results to create a customized fitness plan for your needs.
Stretch to Increase Flexibility
Improve your flexibility by stretching before and after your workouts. You can use a chair or wall for additional support. You'll feel better and increase your balance and strength.
Explore Group Exercise Classes
As you become stronger through a basic strength and aerobic routine, you can incorporate group exercise classes, personal training and a variety of fitness offerings we have at the Center to reach your goals. Our Next Steps™ fitness programs can help you if you have a medical condition or need support to be more active. These 8-week programs feature exercises designed to meet your specific needs in areas such as functional fitness, cancer fitness, cardiac fitness and more.
FIND OUT IF MY 90 DAY PROGRAM WILL BENEFIT YOU!
TAKE THESE 2 QUICK QUIZZES AND SEE YOUR RESULTS IMMEDIATELY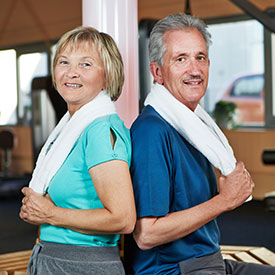 Answering these unobtrusive questions will accomplish 2 things:
Your truthful responses will afford me an enlightened synopsis of your personal health and fitness condition
Your answers will give me the necessary tools to adapt my 90 day program to fit your situation so you can reap the best, long lasting benefits you can enjoy for the balance of your lifetime.  
"You have my solemn promise, that I will never share your personal information with anyone against your wishes." 
Taking the Quizzes does not obligate you to purchase anything so, you have nothing to lose but you may learn some important truths about yourself. 
---