You know that if you sit around too much, your chances of bending over and touching your toes are about as good as winning the Mega Millions jackpot. (The odds on Jan. 5 this year were 1 in 302.5 million.)
Around 50 million of you are profoundly sedentary. You have sitting jobs, participate in no regular program of physical activity and generally don't do much that's demanding around the house or yard. That accounts, at least in part, for the fact that more than a third of American adults are obese (one in six, or 17 percent, of kids 12-19 are, too).
But having trouble bending and stretching isn't the only way a sedentary lifestyle affects your flexibility. Turns out being sedentary is directly related to another major health problem: metabolic inflexibility. That's what happens inside your cells — especially muscle and fat cells — when you are overweight, sedentary and eat high-fat, processed-carb meals.
Metabolic inflexibility means that your body has a hard time switching fuel sources the way it needs to, from using carbs to using fat (fatty acids). That's probably because you're supplying your body with an excess of those two energy sources and not spending as much energy as the fuel you consume could support. That disrupts the glucose-managing powers of insulin and weakens your muscles' ability to power you. You develop elevated triglycerides, insulin resistance, elevated glucose levels and Type 2 diabetes.
But how do you restore metabolic flexibility if you're obese, overweight or have insulin resistance or Type 2 diabetes?
EXERCISE
. . . we're not talking Dwayne Johnson exercise, merely getting up and moving around more.
Boosting your burn rate of lipids and carbs allows your cells to build healthy muscle and control glucose levels. The ongoing Aerobics Center Longitudinal Study (ACLS) that started in 1970 and includes more than 80,000 patients has found that poor fitness level accounts for about 16 percent of all participants' death. And how did the researchers get to that figure? By determining how many deaths could have been avoided if folks had walked for just 30 minutes a day! Thirty minutes! That's all. Not even enough to qualify for the minimal fitness routine that the Centers for Disease Control and Prevention recommends:
At least 150 minutes weekly of moderate-intensity aerobic activity (20 or more minutes a day), or 75 minutes weekly of vigorous-intensity activity, or an equivalent combo. Plus: Muscle-strengthening activities two or more days a week.
Benefits increase with increasing activity to 300 minutes weekly (40 or more minutes a day) of moderate-intensity, or 150 minutes a week of vigorous-intensity aerobic activity, or an equivalent combo.
Need more incentive? ACLS also found that moderately fit men lived six years longer than unfit men. And women who were very fit were 55 percent less likely to die from breast cancer than women who were not in good shape.
If you want to make sure your body is metabolically flexible, so that your muscles work well and your internal organs function properly, adopt a diet that provides you with the fuel your cells want: lean proteins, 100 percent whole grains and 7 to 9 servings of produce daily. Then get moving: Start by walking 20 minutes a day (your goal is 10,000 steps daily) or take a yoga class. Stretch bands are great for underused muscles.
The rewards are real, from metabolic flexibility to muscle flexibility. You'll increase your self-confidence and achieve a younger Real Age.
By Drs. Oz & Roizen    |   Tuesday, 07 August 2018 11:41 AM
MY TIME PROVEN PLAN TO A HAPPY RETIREMENT
I have developed a simple, easy 90 day program, designed exclusively for men and women over the age of 50. The secret success of my platform is GRADUAL PROGRESSION! As we age we must take a more effective approach to fitness. Instead of the normal intense application of, lengthy, strenuous weight training sessions and high impact cardio solutions applied 3-4 a week.
My Successful Theory Is: 
"Start Our Small, And Add One Small Thing Each Week For 12 Weeks" 
The best part of my easy program is:
You can participate in the comfortable, secure confines of your "OWN HOME"
You have the benefit of,"having your own PERSONAL TRAINER 24/7 without leaving your house"
You can work at your own pace, set your own personal goals
Your progress is tracked by my exclusive automated Weekly Charts
This Has Been My Experience Over The Past 3+ Years:
I get my required "Daily" nutrients, vitamins and minerals through a Doctor's approved supplement
I eat a healthy, sensible diet.
I partake "Daily" in a few minutes (not hours) of easy exercises, designed specifically for my age group.
I set and achieve "short term" goals; the only limitations I have are those that I place on myself.
As a result, my  Fitness and overall health is better now than it was 25 years ago. I'm not saying I have discovered the fabled "Fountain of Youth" but I have come pretty darn close.
The basic secret to living a healthy, more fit Lifestyle when you are over 50 is: "Everything in moderation." That is the beauty of participating in my 3 Step Fitness/Wellness "90 day" Program. It's easy, simple, and rewarding.
In 90 days you will develop a modest daily routine that will sustain you for the balance of your life. By investing just a few minutes a day (not hours) you will sustain a vibrant lifestyle that will afford you the luxury to achieve your hopes and dreams for the future.
FIND OUT IF MY 90 DAY PROGRAM WILL BENEFIT YOU!
TAKE THESE 2 QUICK QUIZZES AND SEE YOUR RESULTS IMMEDIATELY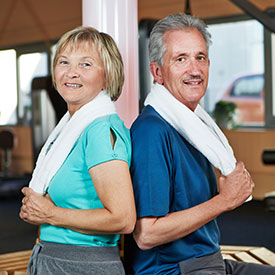 Answering these unobtrusive questions will accomplish 2 things:
Your truthful responses will afford me an enlightened synopsis of your personal health and fitness condition
Your answers will give me the necessary tools to adapt my 90 day program to fit your situation so you can reap the best, long lasting benefits you can enjoy for the balance of your lifetime.  
"You have my solemn promise, that I will never share your personal information with anyone against your wishes." 
Taking the Quizzes does not obligate you to purchase anything so, you have nothing to lose but you may learn some important truths about yourself. 
---
REMEMBER . . .
"IF YOU HAVE A GOOD ATTITUDE, LOOK AND FEEL GOOD . . . ANYTHING IS POSSIBLE!
YOU OWE IT TO YOURSELF!
IT WORKS, EVERY TIME TRIED!