The decision has been made to keep your aging parent at home a little while longer or they are living with you, but you cannot be there 24/7 and need to take a few safety precautions when you cannot be there.
The chance of Falling is the premiere nemeses of aging men and women
As 1 in 4 adults over the age of 65 takes a fall, safety is important. This is typically the primary safety concern along with each senior having their own individual health and mental concerns.
Having a plan and exploring what options fit your family, your senior, and the home is always a great start.
If getting a full evaluation of the homes safety is a goal, you may want to contact a certified aging-in-place specialist, occupational or physical therapist, or a geriatric care manager. They will be able to make safety recommendations.
A few quick and easy solutions:
Raised Toilet Seat
Shower Chair
Textured no-slip strips in the bathtub and shower
Stair climber
Waterproof seat in the shower
Controls and switches near bed and/or wheelchair
Remove throw rugs
Add monitors and alarms to the home
Remove locks from doors inside the home
Change doors to the outside of the home to levers
Hallway and stairway lighting is efficient
Adjust thermostat on hot water heater to avoid water getting too hot
In-home Health Services
Another option in the form of preventative safety when your aging parent or senior is unable to be alone or alone for long periods of time, consider a home healthcare service. They can provide a range of services including: transportation, cooking, light housekeeping, dispensing medication, and other services.  Home Healthcare services vary on their offerings, visit www.SeniorLivingGuide.com's Home Health tab in your area to find out what specific services that fit your family's needs.
You have followed all these steps to be proactive with safety, but accidents and emergencies still can happen. What then?
Remember the commercial with the catchphrase, "I've fallen, and I can't get up!"? Since this commercial became a pop-culture phenomenon in its 80's debut, personal response and medical monitoring devices have been the answer to in-home senior safety and security especially as technology has progressed over the years.
Medical Alarm Monitoring, may be a turn key and inexpensive solution providing you peace of mind. If your senior has an accident, gets frightened, or has a need for any type of medical attention, a touch of a button alerts the company, authorities, and specific contacts easily.
Whatever the home situation is with an aging recipient; keeping safety and security top of mind is key. There are many solutions to consider, but there is a magnitude of resources available both online and offline. Make sure that you do your research and utilize what is available.
The best way to prevent falls, is to maintain your Fitness &  Wellness to improve overall stability and balance.
Every Over 50 person should embrace a health and fitness schedule that will keep their health in check and prevent problems. It should begin with proper dieting and be fanned by exercise and medications to prevent diseases. With the observance of all health and fitness guidelines recommended, seniors can enjoy healthy living.
MY TIME PROVEN PLAN TO A HAPPY RETIREMENT 
I have developed simple, easy 90 day program, designed exclusively for men and women over the age of 50. The secret success of my platform is GRADUAL PROGRESSION! As we age we must take a more effective approach to fitness. Instead of the normal intense application of, lengthy, strenuous weight training sessions and high impact cardio solutions applied 3-4 a week.
My Successful Theory Is: 
"Start Our Small, And Add One Small Thing Each Week For 12 Weeks" 
The best part of my easy program is:
You can participate in the comfortable, secure confines of your "OWN HOME"
You have the benefit of,"having your own PERSONAL TRAINER 24/7 without leaving your house"
You can work at your own pace, set your own personal goals
Your progress is tracked by my exclusive automated Weekly Charts
This Has Been My Experience Over The Past 3+ Years:
I get my required "Daily" nutrients, vitamins and minerals through a Doctor's approved supplement
I eat a healthy, sensible diet.
I partake "Daily" in a few minutes (not hours) of easy exercises, designed specifically for my age group.
I set and achieve "short term" goals; the only limitations I have are those that I place on myself.
As a result, my  Fitness and overall health is better now than it was 25 years ago. I'm not saying I have discovered the fabled "Fountain of Youth" but I have come pretty darn close.
The basic secret to living a healthy, more fit Lifestyle when you are over 50 is: "Everything in moderation." That is the beauty of participating in my 3 Step Fitness/Wellness "90 day" Program. It's easy, simple, and rewarding.
In 90 days you will develop a modest daily routine that will sustain you for the balance of your life. By investing just a few minutes a day (not hours) you will sustain a vibrant lifestyle that will afford you the luxury to achieve your hopes and dreams for the future.
FIND OUT IF MY 90 DAY PROGRAM WILL BENEFIT YOU!
TAKE THESE 2 QUICK QUIZZES AND SEE YOUR RESULTS IMMEDIATELY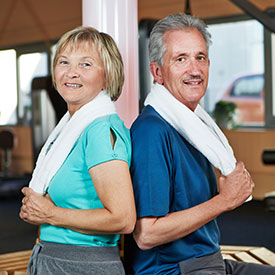 Answering these unobtrusive questions will accomplish 2 things:
Your truthful responses will afford me an enlightened synopsis of your personal health and fitness condition
Your answers will give me the necessary tools to adapt my 90 day program to fit your situation so you can reap the best, long lasting benefits you can enjoy for the balance of your lifetime.  
"You have my solemn promise, that I will never share your personal information with anyone against your wishes." 
Taking the Quizzes does not obligate you to purchase anything so, you have nothing to lose but you may learn some important truths about yourself. 
---
REMEMBER . . .
"IF YOU HAVE A GOOD ATTITUDE, LOOK AND FEEL GOOD . . . ANYTHING IS POSSIBLE! 

"IT WORKS, EVERY TIME TRIED"