During the summer — and even year-round — our bodies crave water. There's no way to live without it. But just how much do we really need every day to stay healthy?
The answer can get complicated.
"It's hard to find an exact amount because it's variable based on your age, where you live, whether it's hot and humid, or cold and dry. Are you male or female, more active or less active," said Ilyse Schapiro, a registered dietitian with nutrition counseling practices in New York and Connecticut.
Studies have shown that water keeps the mind and body healthy, transporting nutrients, removing waste, regulating body temperature and keeping the cells working.
Although the total amount varies by age, gender and body composition, our bodies are 55 percent to 78 percent water.
The Food and Nutrition Board at the federal Institute of Medicine offers an estimate on a healthy balance of water for adult men and women. It suggests men have about 3.7 liters daily. That's about 15, 8-ounce glasses. Women should have about 2.7 liters, or 11 glasses.
But drinking water isn't the only way to stay hydrated. Most people get about 20 percent of their water from food.
Dr. Michael Sayre, an emergency medicine doctor at Harborview Medical Center in Seattle, said most people can — and should — listen to their body and brain.
"Your brain regulates that really well," said Sayre, who teaches emergency medicine at the University of Washington. "In terms of preventing [conditions] like heat stroke, it's generally people who ignored the signals they were thirsty or couldn't respond to them because they were physically impaired, or they were in an environment where they didn't have access to water."
Dehydration can begin within just a few hours of heavy exercise or extreme heat. Often, it happens with little notice, and by the time a person responds to their thirst they already are behind on a healthy water balance. Fatigue, headaches, dizziness, sleepiness and dry mouth can all be signs of dehydration.
"Don't let yourself get to that point of dehydration," Schapiro said. An obvious way to tell is the color of urine.
"We don't want to always talk about that, but it's a good indicator," she said. The clearer the color, the more hydrated a person is.
In many cases, medication and certain conditions such as diabetes or heart disease can impact how much water a person needs.
"A lot of high blood pressure and other types of medications tend to be diuretics," which cause the body to lose more water, Schapiro said. "In those cases, people should work with their doctor to make sure they are paying attention to hydration and keeping a healthy balance."
Sometimes, Schapiro said, people miss cues and mistake thirst for hunger. So, she counsels clients to keep a bottle of water at their side to drink from all day long.
"People forget to include water in nutrition," she said. "People are busy and just not thinking about it. … If you are not well-hydrated during the day, you could be more likely to get a snack when you don't need it."
I have found, that the generally accepted minimum amount of water you should drink is; 8 glasses per day.
This Has Been My Experience Over The Past 3+ Years:
I get my required Daily nutrients, vitamins and minerals through a Doctor's approved supplement
I eat a healthy, sensible diet.
I partake in a few minutes (not hours) of easy exercises, designed specifically for my age group
I dutifully, drink 8 glasses of water every day.
My weight has not fluctuated more than 3 lbs in that time span
As a result, my Fitness and overall health is better now than it was 25 years ago. I'm not saying I have discovered the fabled "Fountain of Youth" but I have come pretty darn close.
The basic secret to living a healthy, more fit Lifestyle when you are over 50 is: "Everything in moderation." That is the beauty of participating in my 3 Step Fitness/Wellness "90 day" Program. It's easy, simple, and rewarding.
In 90 days you will develop a modest daily routine that will sustain you for the balance of your life. By investing just a few minutes a day (not hours) you will sustain a vibrant lifestyle that will afford you the luxury to achieve your hopes and dreams for the future.
FIND OUT IF MY 90 DAY PROGRAM WILL BENEFIT YOU!
TAKE THESE 2 QUICK QUIZZES AND SEE YOUR RESULTS IMMEDIATELY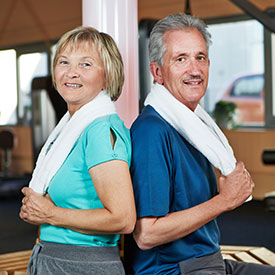 Answering these unobtrusive questions will accomplish 2 things:
Your truthful responses will afford me an enlightened synopsis of your personal health and fitness condition
Your answers will give me the necessary tools to adapt my 90 day program to fit your situation so you can reap the best, long lasting benefits you can enjoy for the balance of your lifetime.  
"You have my solemn promise, that I will never share your personal information with anyone against your wishes." 
Taking the Quizzes does not obligate you to purchase anything so, you have nothing to lose but you may learn some important truths about yourself. 
---
REMEMBER . . .
"IF YOU HAVE A GOOD ATTITUDE, LOOK AND FEEL GOOD . . . ANYTHING IS POSSIBLE!
Check out my offers: Sign Up and JOIN US in our 12 week Fitness/Wellness Program.
"IT WORKS, EVERY TIME TRIED"