"Senior fitness" and other such terms seem to be hot buzzwords in the fitness community these days, and for good reason! Although those over 50 may not identify as a "senior" because they are still 50 years young, it is a broad term meant to relate to the graying generation. In decades past, the social climate has suggested that slowing down and working out less, in addition to physical limitations or immobility and joint pain, are just a normal part of aging. However, in more recent years, studies (and healthy older folks) are proving that being over the age of 50 does not mean you are any less able.
Take our good friend Arnold Schwarzenegger and his brood. He is 71 years young and lifting similarly to that of what he was doing in his 30s! And, his good buddy and acting partner, Sylvester Stallone, is still making films to show off his Rocky-like physique, and he is 72 years young! While we are not suggesting you hit the gym to become a muscle-bound beefcake in your 70s, we are pointing out that being a "senior" does not equal muscle atrophy and sitting on the sidelines instead of playing the field. Here, we will discuss some tips for improving or maintaining your fitness as you age.
Tips for Senior Fitness
As we age, recovery may take longer and the stress we have put on our bodies when we were younger may begin to takes its toll. This only means that we have to work out smarter and take care of our bodies a little better. Read through some of these senior fitness tips to help get you started.
Stretch it Out
They have always preached stretching before and after a workout, and when we were younger, most of us ignored this advice. We are young, tough, and invincible! Stretching only slowed down our workouts and took away from the time we had to do the actual workout, so it was skipped, a lot. As we age, stretching becomes increasingly important. Our muscles, tendons, and ligaments all tend to get a little tighter and take a little longer to warm up. Stretching before and after your workout makes a world of difference and will help reduce required recovery time.
Don't Fear the Weights
Using your body weight for workouts is great, but using weights during workouts helps to build muscle that helps to support joints as well as strengthen bones. Aging adults often suffer from joint issues and weak bones, most of which can be attributed to a decline in physical strength. Perhaps you have a chronic illness or have suffered an injury that limits your physical mobility. Too many people take that experience and spiral downward, never making a full recovery. It is important to continue to stay physically active and exercise when you can.
Listen to Your Body
Forget the axiom "no pain, no gain!" If your muscles are sore and stiff after a good workout, this is normal and good, and means that you did a good workout, keep at it! However, if you have sharp pains in your muscles, joint pain of any kind, or are feeling fatigued, listen to your body! You may not have to completely skip a workout, but you may have to scale it back a bit or modify the next workout or two. Find what feels good but is challenging at the same time.
Make Your Daily Routine More Active
Not into working out for an hour each day, sweating along to some video of a 20-something in spandex or exercise video for over 50? That's fine because there is no need for that! The Centers for Disease Control and Prevention (CDC) recommends five hours of moderate-intensity physical activity a week. This does not decrease once you hit 50, 60, or even 80! One easy way is by sneaking more activity into your daily routine. Take a walk to check the mail, take the stairs instead of the elevator anytime you can, spend some time tending to the garden. Use hobbies and fun activities to get in your exercise, such as going for a bike ride, walking your dog, or going for a swim at the local pool.
Get Social
If working out is not your thing and never really has been, find support in social groups. You are not the only one getting your fitness started in your silver years! Check out classes at the local rec center, reach out to your community on social media, or get engaged with your current social group. When you exercise with someone else, you are more likely to stay committed and enjoy the activity.
Lifestyle Change After 50
If you are over the age of 50 and looking for a realistic lifestyle change, but are frustrated with the options that are targeted at college co-eds, seek the coaching of Donald Thomsen. As a 79-year-old fitness enthusiast, Don will help guide you with his program, Lifestyle Change After 50. You'll get a real-life training partner who will guide you through a very doable program and help you modify it to fit your particular needs. Staying fit in your golden years is the fountain of youth. Tap into the secrets and contact Donald Thomsen today!
FIND OUT IF MY 90 DAY PROGRAM WILL BENEFIT YOU!
TAKE THESE 2 QUICK QUIZZES AND SEE YOUR RESULTS IMMEDIATELY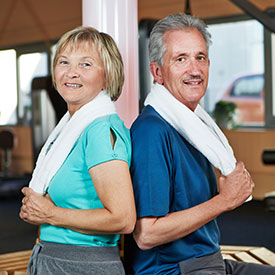 Answering these unobtrusive questions will accomplish 2 things:
Your truthful responses will afford me an enlightened synopsis of your personal health and fitness condition
Your answers will give me the necessary tools to adapt my 90 day program to fit your situation so you can reap the best, long lasting benefits you can enjoy for the balance of your lifetime.  
"You have my solemn promise, that I will never share your personal information with anyone against your wishes." 
Taking the Quizzes does not obligate you to purchase anything so, you have nothing to lose but you may learn some important truths about yourself. 
---