The information Highway can be bring beneficial Fitness/Wellness programs conveniently, into your home
With the growing focus on health holidays such as National Senior Health & Fitness Day- an observance day that's been held on May 30 for the last 25 years encouraging seniors to take control of their health through regular physical activity- the spotlight is on digital technologies that are helping seniors learn and try new things, and communicate with each other and healthcare professionals.
So what does this mean for you? For one, it means that because the internet is more accessible than ever, there's a truly unlimited web of resources out there to help you get better clinical care, change your eating habits, embark on a fitness journey, and more.
Take a closer look below at some of the ways technology is evolving to help you stick to your goals and ultimately live a better quality of life.
Telehealth
Though advancements have definitely been made in recent years, telemedicine is actually not a new concept. From whispers of using "the telephone to reduce unnecessary office visits" as early as 1879, to its current incarnation in call centers and video chats, the industry has evolved to reflect the idea that on-demand, affordable health care is a crucial priority for providers- which is great news for patients!
By using telemedicine, you can take advantage of remote monitoring for chronic conditions, access a wider net of specialists, and reduce your risk of a medical emergency, all at costs that are considerably lower than traditional healthcare. Since recent laws are requiring common providers like Medicaid to provide access to telemedicine for their patients in many cases, it can't hurt to contact your healthcare provider, and explore your options.
Discussion Forums & Social Media
The advent of the internet brought with it the idea that those who had previously never met, and who could go their whole lives without physically meeting one another, could share information and opinions through online discussion forums. This isn't a practice that will fade away anytime soon- more of the older population is online than ever before, and look to discussion forums and websites in order to make informed decisions about their health.
A big part of this is social media. As stated previously, older adults are logging on in record numbers- in fact, a study conducted by the Pew Internet research group indicated that more than 45 percent of seniors under 75 have reported using social media, a number that has steadily grown year over year, with no signs of slowing.
Sites like Facebook are a powerful resource for those looking to interact with businesses, and form groups of like-minded people (based on qualifiers like age, health conditions, and location). It's a great way to get social and share information, and creating an account is free if you'd like to try it out.
Apps & Wearables
The number of seniors who own smartphones has more than doubled since 2013, according to the same Pew Internet research study. Health and fitness apps and wearable tracking devices (think FitBit) have made fitness and nutrition information more accessible than ever before- and are paving the way for other smartphone apps and devices specifically designed to help seniors.
Whether it's a gps tracker for dementia "wanderers", to a device that tracks your sleep patterns and helps you draw conclusions about your health, apps and wearables can be helpful no matter what stage in the aging process you are.
The Takeaway
It's important to stay connected, especially as we age. Try some of these tips, distilled from the info above, to get you online and active in no time!
Ask your doctor about telemedicine options:
Create a social media account and connect with friends and family
Join an online chat or form a Facebook group
Test out a smartphone app (many have free trials available)
Use a device to track your steps, sleeping habits, and heart rate
Tapping into digital trends like the ones above is becoming increasingly commonplace amongst the older generation. What do you think about the way technology is shaping healthcare and wellness?
MY TIME PROVEN PLAN TO A HAPPY RETIREMENT 
I have developed simple, easy 90 day program, designed exclusively for men and women over the age of 50. The secret success of my platform is GRADUAL PROGRESSION! As we age we must take a more effective approach to fitness. Instead of the normal intense application of, lengthy, strenuous weight training sessions and high impact cardio solutions applied 3-4 a week.
My Successful Theory Is: 
"Start Our Small, And Add One Small Thing Each Week For 12 Weeks" 
The best part of my easy program is:
You can participate in the comfortable, secure confines of your "OWN HOME"
You have the benefit of,"having your own PERSONAL TRAINER 24/7 without leaving your house"
You can work at your own pace, set your own personal goals
Your progress is tracked by my exclusive automated Weekly Charts
This Has Been My Experience Over The Past 3+ Years:
I get my required "Daily" nutrients, vitamins and minerals through a Doctor's approved supplement
I eat a healthy, sensible diet.
I partake "Daily" in a few minutes (not hours) of easy exercises, designed specifically for my age group.
I set and achieve "short term" goals; the only limitations I have are those that I place on myself.
As a result, my  Fitness and overall health is better now than it was 25 years ago. I'm not saying I have discovered the fabled "Fountain of Youth" but I have come pretty darn close.
The basic secret to living a healthy, more fit Lifestyle when you are over 50 is: "Everything in moderation." That is the beauty of participating in my 3 Step Fitness/Wellness "90 day" Program. It's easy, simple, and rewarding.
In 90 days you will develop a modest daily routine that will sustain you for the balance of your life. By investing just a few minutes a day (not hours) you will sustain a vibrant lifestyle that will afford you the luxury to achieve your hopes and dreams for the future.
FIND OUT IF MY 90 DAY PROGRAM WILL BENEFIT YOU!
TAKE THESE 2 QUICK QUIZZES AND SEE YOUR RESULTS IMMEDIATELY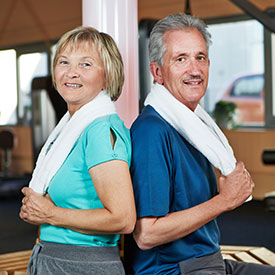 Answering these unobtrusive questions will accomplish 2 things:
Your truthful responses will afford me an enlightened synopsis of your personal health and fitness condition
Your answers will give me the necessary tools to adapt my 90 day program to fit your situation so you can reap the best, long lasting benefits you can enjoy for the balance of your lifetime.  
"You have my solemn promise, that I will never share your personal information with anyone against your wishes." 
Taking the Quizzes does not obligate you to purchase anything so, you have nothing to lose but you may learn some important truths about yourself. 
---
REMEMBER . . .
"IF YOU HAVE A GOOD ATTITUDE, LOOK AND FEEL GOOD . . . ANYTHING IS POSSIBLE!
Check out my offers: Sign Up and JOIN US in our 12 week Fitness/Wellness Program.
"IT WORKS, EVERY TIME TRIED"