We all want to have the most efficient zippy metabolism possible. Here are the most common ways you might be undermining your inner engine. 
1. You're Not Eating Enough
When you don't take in enough nutrients, your body essentially thinks you're starving, says Nutritionist Jess Cording, R.D. So if you're cutting calories but aren't seeing results, chances are you're skimping on  food. Bump up your caloric intake by 200 calories, and monitor how you feel — and look.
2. You're Skimping On Sleep
Lack of sleep throws your hunger hormones of of whack, which leaves you more likely to eat unhealthy foods–and too much of them. Aim for seven to nine hours of sleep a night, on as many night s as possible.
3. You're Stressed Out
High stress levels boost your production of cortisol, which increases inflammation, belly fat, and cravings. Find an outlet like a spin class, yoga, meditation, or massage to help you deal.
4.Your Not Eating Enough Protein 
Your body needs protein to do everything from fuel your cells to built tissues, and without ample protein, your metabolism slows, you feel sluggish, and won't be able to build muscle mass. Shoot for at least 0.5 grams of protein per pond of body weight per day, space out amongst your meals.
5. You Don't Strength Train
Research shows that cardio supports weight loss, while it burns calories it can't boost your metabolism. Weight training, on the other hand, can. Muscle tissue uses a lot of calories every day, so the more muscle you have, the faster your metabolism. To build muscle, schedule in at least two or three strength-training sessions per week.
MY EXPERIENCE OVER THE PAST 3+ YEARS
The basic secret to living a healthy, more fit Lifestyle when you are over 50 is: "Everything in moderation." That is the beauty of participating in my 3 Step Fitness/Wellness "90 day" Program. It's easy, simple, and rewarding.
In 90 days you will develop a modest daily routine that will sustain you for the balance of your life. By investing just a few minutes a day (not hours) you will sustain a vibrant lifestyle that will afford you the luxury to achieve your hopes and dreams for the future.
FIND OUT IF MY 90 DAY PROGRAM WILL BENEFIT YOU!
TAKE THESE 2 QUICK QUIZZES AND SEE YOUR RESULTS IMMEDIATELY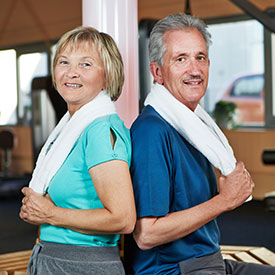 Answering these unobtrusive questions will accomplish 2 things:
Your truthful responses will afford me an enlightened synopsis of your personal health and fitness condition
Your answers will give me the necessary tools to adapt my 90 day program to fit your situation so you can reap the best, long lasting benefits you can enjoy for the balance of your lifetime.  
"You have my solemn promise, that I will never share your personal information with anyone against your wishes." 
Taking the Quizzes does not obligate you to purchase anything so, you have nothing to lose but you may learn some important truths about yourself. 
---
REMEMBER . . .
"IF YOU HAVE A GOOD ATTITUDE, LOOK AND FEEL GOOD . . . ANYTHING IS POSSIBLE!
Check out my offers below:  JOIN US in our 12 week Fitness/Wellness Program.
"IT WORKS, EVERY TIME TRIED" 
Click Here, to get started on your fitness transformation today.