If you are a baby-boomer or senior or If you're trying to help an aging parent or loved one combat senior social isolation, consider these ways to help engage with others and community again. It doesn't take much, but it will mean so much to your happiness and well-being.
1. Encourage  Hobbies
You may be surprised to hear that hobbies are an important thing to have when you reach your golden years. Whether it's card games, bingo, gardening, baking or volunteering, hobbies help create a sense of purpose, and they also give your aging parent a reason to get out of the house.
So remember what you really enjoy, or try to remember what got you excited years ago and re-introduce it back into your life.  Maintaining interests is a very effective way of preventing loneliness from occurring in the first place.
2. Organize Transportation
A big reason why many seniors often stay put at home without venturing outside much is that get around can be a challenge. If there's a card game happening every night at their friend's house located across the city with no means to get there, it's easy to see how this can be a challenge for them. Having easy access to transportation is crucial for seniors to be able to stay connected to their community. Offering a ride or hiring a pick-up and drop-off service can help seniors break through this obstacle while assisting them to maintain a sense of independence.
3. Encourage More Family Time
Setting up weekly routines such as dining together at home or heading out for a nice meal as an entire family, can make a world of difference and mean so much. For seniors, interaction with family is more important than ever. So make sure to include them in your daily life, whether it's dining together a few nights each week, or having family games night or just browsing through the market together.
4. Foster Companionship With a Pet
Having a furry little one to care for is another excellent way to help combat senior social isolation. Caring for a pet will create a sense of purpose, and it will allow folks to focus on something to pass the time while enjoying the cuddles and companionship that a pet can provide. Plus, it will encourage ones to get out more and enjoy the fresh air during their daily walks with their pet.
5. Don't Forget About Exercise
While seniors may be more fragile and prone to injury, exercise is still one of the most important factors for maintaining good health, both physically and mentally. Exercise is also very beneficial at easing anxiety and promoting our feel-good hormones. Encourage yourself to stay active by joining a senior aqua fitness class, yoga, tai chi, or any other method of gentle exercise that they will enjoy.
MY TIME PROVEN PLAN TO A HAPPY RETIREMENT
I have developed simple, easy 90 day program, designed exclusively for men and women over the age of 50. The secret success of my platform is GRADUAL PROGRESSION! As we age we must take a more effective approach to fitness. Instead of the normal intense application of, lengthy, strenuous weight training sessions and high impact cardio solutions applied 3-4 a week.
My Successful Theory Is: 
"Start Our Small, And Add One Small Thing Each Week For 12 Weeks" 
The best part of my easy program is:
You can participate in the comfortable, secure confines of your "OWN HOME"
You have the benefit of,"having your own PERSONAL TRAINER 24/7 without leaving your house"
You can work at your own pace, set your own personal goals
Your progress is tracked by my exclusive automated Weekly Charts
This Has Been My Experience Over The Past 3+ Years:
I get my required "Daily" nutrients, vitamins and minerals through a Doctor's approved supplement
I eat a healthy, sensible diet.
I partake "Daily" in a few minutes (not hours) of easy exercises, designed specifically for my age group.
I set and achieve "short term" goals; the only limitations I have are those that I place on myself.
As a result, my  Fitness and overall health is better now than it was 25 years ago. I'm not saying I have discovered the fabled "Fountain of Youth" but I have come pretty darn close.
The basic secret to living a healthy, more fit Lifestyle when you are over 50 is: "Everything in moderation." That is the beauty of participating in my 3 Step Fitness/Wellness "90 day" Program. It's easy, simple, and rewarding.
In 90 days you will develop a modest daily routine that will sustain you for the balance of your life. By investing just a few minutes a day (not hours) you will sustain a vibrant lifestyle that will afford you the luxury to achieve your hopes and dreams for the future.
FIND OUT IF MY 90 DAY PROGRAM WILL BENEFIT YOU!
TAKE THESE 2 QUICK QUIZZES AND SEE YOUR RESULTS IMMEDIATELY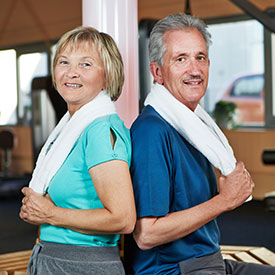 Answering these unobtrusive questions will accomplish 2 things:
Your truthful responses will afford me an enlightened synopsis of your personal health and fitness condition
Your answers will give me the necessary tools to adapt my 90 day program to fit your situation so you can reap the best, long lasting benefits you can enjoy for the balance of your lifetime.  
"You have my solemn promise, that I will never share your personal information with anyone against your wishes." 
Taking the Quizzes does not obligate you to purchase anything so, you have nothing to lose but you may learn some important truths about yourself. 
---
REMEMBER . . .
"IF YOU HAVE A GOOD ATTITUDE, LOOK AND FEEL GOOD . . . ANYTHING IS POSSIBLE!
YOU OWE IT TO YOURSELF!
IT WORKS, EVERY TIME TRIED!