Here's how to incorporate them into your life.
If you're searching for an all-natural way to lift your mood, preserve muscle tone, and protect your brain against the decline that comes with aging, look no further than the closest mirror.
One of the most powerful means of reaping these benefits is exercise — and in many cases, you already have everything you need to get it: a BODY.
As we age, two forms of exercise are the most important to focus on: aerobic exercise, or cardio, which gets your heart pumping and sweat flowing, and strength training, which helps keep aging muscles from dwindling over time.
And most of the time, they don't require any fancy equipment or expensive classes.
Read on to find out how to incorporate both forms of fitness into your life.
If you've recently considered beefing up your regular workout routine, you may have found yourself asking exactly how much exercise you should be doing to get results.
Previous research has hinted that the magic starts to happen with 45-minute workouts. But there's a growing body of evidence that the time you spend on a single workout matters less than the total time you spend at the gym over long periods. That means whether your latest workout was five or 50 minutes is less important than whether you manage to hit the track or pool regularly, or at least several times a week.
A new review of nearly 100 well-designed studies published in May in the journal Neurology: Clinical Practice found that older folks who clocked in roughly 52 hours over six months doing things like walking, biking, or yoga — which breaks down to roughly 40 minutes of exercise three times a week — showed significant cognitive benefits over people who did less exercise or none at all.
"This is evidence that you can actually turn back the clock of aging in your brain by adopting a regular exercise regimen," Joyce Gomes-Osman, a rehabilitation scientist at the University of Miami's Miller School of Medicine who led the study, told MedPage Today.
Aerobic exercises like fast walking or jogging may help reverse some heart damage from normal aging.
Many of us become less active as we age. Over time, this can lead to the stiffening of some muscles in the heart.
One of those at-risk muscles is in the left chamber of the heart, a section that plays a key role in supplying the body with freshly oxygenated blood.
A recent study split 53 adults into two groups. One did two years of supervised exercise four or five days a week, while the other did yoga and balance exercises.
At the end of the study, published in January in the journal Circulation, the higher-intensity exercisers had seen significant improvements in heart performance, suggesting that some stiffening in the heart can be prevented or even reversed with regular cardio.
"Based on a series of studies performed by our team over the past 5 years, this 'dose' of exercise has become my prescription for life," Benjamin Levine, a professor of internal medicine at the University of Texas Southwestern who wrote the study, said in a statement.
Sensible strength-training moves are best for preserving muscles from age-related decline.
Strength or resistance training can take many forms, but it typically involves a series of movements geared toward building or preserving muscle.
The exercise used should be performed slowly and gently, with a high degree of focus and attention paid to breathing deeply.
Since practitioners go at their own pace, these types of exercise are accessible for a wide variety of people, regardless of age or fitness level.
Another benefit to older people improves balance and is an important component of fitness, and balance is something we lose as we get older.
There may be a powerful link between regular cardio, like swimming and walking, and a lower risk of dementia.
A study published in March in the journal Neurology suggested that women who were physically fit in middle age were roughly 88% less likely to develop dementia — defined as a decline in memory severe enough to interfere with daily life — than their peers who were only moderately fit.
Starting in 1968, neuroscientists from the University of Gothenburg in Sweden studied 191 women whose average age was 50. First, the researchers assessed the participants' cardiovascular health using a cycling test and grouped them into three categories: fit, moderately fit, or unfit.
Over the next four decades, the researchers regularly screened the women for dementia. In that time, 32% of the unfit women and one-quarter of the moderately fit women were diagnosed with the condition, while the rate was only 5% among the fit women.
"We now have strong evidence that encouraging people to commit to regular exercise throughout their lives is a viable solution to the problem that we are living longer but not healthier," Janet Lord, the director of the Institute of Inflammation and Aging at the University of Birmingham in the UK, said in a statement.
MY TIME PROVEN PLAN TO A HAPPY RETIREMENT 
I have developed simple, easy 90 day program, designed exclusively for men and women over the age of 50. The secret success of my platform is GRADUAL PROGRESSION! As we age we must take a more effective approach to fitness. Instead of the normal intense application of, lengthy, strenuous weight training sessions and high impact cardio solutions applied 3-4 a week.
My successful theory is "start our small, and add one small thing each week for 12 weeks" 
This Has Been My Experience Over The Past 3+ Years:
I get my required "Daily" nutrients, vitamins and minerals through a Doctor's approved supplement
I eat a healthy, sensible diet.
I partake "Daily" in a few minutes (not hours) of easy exercises, designed specifically for my age group.
I set and achieve "short term" goals; the only limitations I have are those that I place on myself.
As a result, my  Fitness and overall health is better now than it was 25 years ago. I'm not saying I have discovered the fabled "Fountain of Youth" but I have come pretty darn close.
The basic secret to living a healthy, more fit Lifestyle when you are over 50 is: "Everything in moderation." That is the beauty of participating in my 3 Step Fitness/Wellness "90 day" Program. It's easy, simple, and rewarding.
In 90 days you will develop a modest daily routine that will sustain you for the balance of your life. By investing just a few minutes a day (not hours) you will sustain a vibrant lifestyle that will afford you the luxury to achieve your hopes and dreams for the future.
FIND OUT IF MY 90 DAY PROGRAM WILL BENEFIT YOU!
TAKE THESE 2 QUICK QUIZZES AND SEE YOUR RESULTS IMMEDIATELY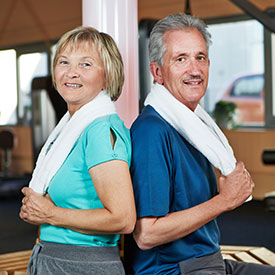 Answering these unobtrusive questions will accomplish 2 things:
Your truthful responses will afford me an enlightened synopsis of your personal health and fitness condition
Your answers will give me the necessary tools to adapt my 90 day program to fit your situation so you can reap the best, long lasting benefits you can enjoy for the balance of your lifetime.  
"You have my solemn promise, that I will never share your personal information with anyone against your wishes." 
Taking the Quizzes does not obligate you to purchase anything so, you have nothing to lose but you may learn some important truths about yourself. 
---
REMEMBER . . .
"IF YOU HAVE A GOOD ATTITUDE, LOOK AND FEEL GOOD . . . ANYTHING IS POSSIBLE!
Check out my offers: Sign Up and JOIN US in our 12 week Fitness/Wellness Program.
"IT WORKS, EVERY TIME TRIED"